Sandbag Replacement Systems for Flood and Water-Control Situations
Our Services: Disaster Relief and Innovative Protection Systems   
A fast and simple solution for containment and deferment of water. Big Bags USA is a great on-hand sandbag tool for disaster prevention.
In the event of possible levee overtopping, Big Bags USA flood barrier system can easily add up to an additional 6ft. (2m) with no necessary preparations.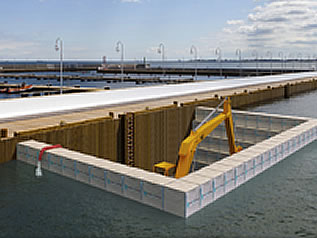 Coffer dams made with Big Bags USA flood barriers are an easy and cost-effective alternative to metal sheet pilings that require expensive equipment to deploy.
Excellent for on-the-spot traffic barriers using Big Bags USA sandbags system. Easy deployment from protective construction barriers to emergency roadside disasters.
Big Bags USA's flood barrier deployment as berm barriers and tidal breaks can use the coastal front's existing sand to fill our sandbags, providing even more savings while eliminating further sediment deposits.
Landslide control and falling rock protection require strong protection methods. Big Bags USA sandbag barriers have heavy-duty textile weave, a great choice.
Used by the National Guard!
North Dakota National Guardsmen had the opportunity to place and fill a new system during the 2010 flood fight. The Big Bag USA system is 15 feet wide and 3 feet high; when filled, it's equal to about 750 sandbags.
Over 9,000 Feet of Big Bags Deployed by the Missouri Department of Transportation!
This was in 2011 in Carrollton, Missouri to protect Route 65 from floodwaters.