Flood Protection
You Can Trust
Flood Protection
You Can Trust
A NEW ERA IN FLOOD BARRIER PROTECTION
Distributing High-Quality Big Bags USA Systems
Impending Flood? If you have a Flood Emergency call us at 1-800-337-0537. We have big-bag flood barrier systems available for immediate delivery! We're always ready to help local, state, and federal agencies be prepared!
Our innovative 5-connected bulk bag systems outperform conventional sandbags and other FIBC bulk bags on the market.
1 Big Bags USA System = 750 conventional sandbags
It takes 2 people less than 10 minutes to deploy one of our systems
When stacked in a pyramid formation, our barriers can reach heights other sandbags simply can't.
Rapidly Deployed Barrier
and Flood Control Systems
Big Bags USA flood control systems and flood barrier systems provide lightning-fast flood protection at a fraction of the cost of regular sandbags. One system is 36" wide, 15' long, and 40" tall. One five-bag system can be placed and filled by two men in less than 10 minutes. That's equal to 15 linear feet every ten minutes. No other sandbag deployment method equals the speed of deployment possible with Big Bags USA. Big Bags USA has earned its rank in the Top Ten Flood Barriers list.
Now available through GSA Schedule 47QSWA20D001E. The Perfect flood protection product is ready for immediate delivery.
Our U-Frame design allows for the systems to be screwed together and our "WATER SIDE" part of the barrier is 10 mils thick, extra coated to form an impermeable barrier with UV protection.
This combination paired with liner bags allows for the tightest seal possible.
Regular sandbags and FIBC bags don't measure up.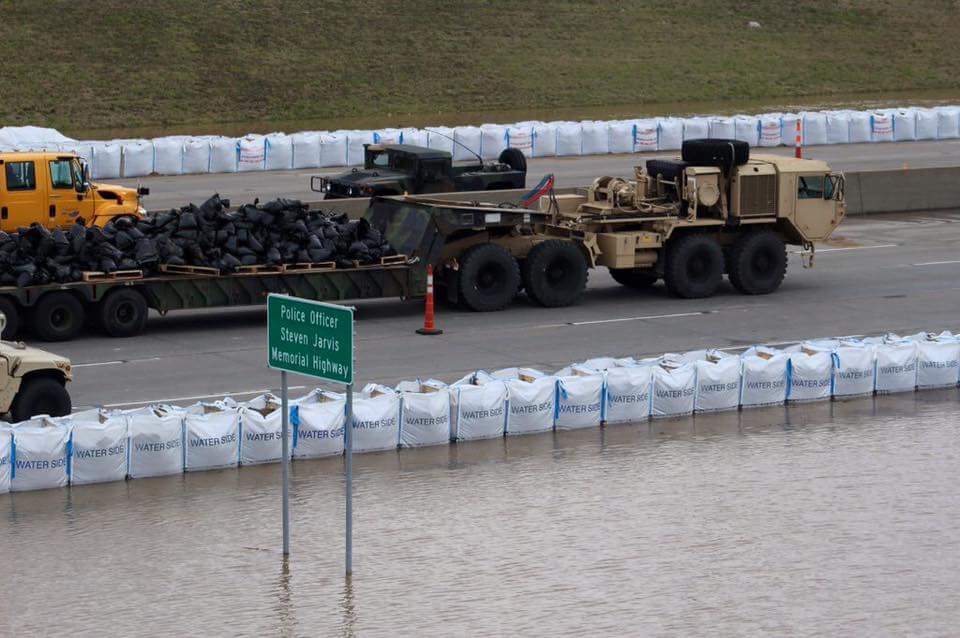 Each filled flood barrier consists of five connected heavy-duty cubic yard bags. The barriers can be connected to form one contiguous line of any length. The barrier systems can also be stacked to achieve vertical height.
Big Bags USA flood barriers can be filled using many different types of equipment, such as: skid steers, backhoes, front-end loaders, conveyor belt trucks, crane booms, and even cement mixers when using a slurry. Simple and fast deployment is what makes Big Bags USA barriers an industry leader.
Each flood barrier is 3' wide, 15' long, and 40" tall. A single barrier is equal to over 750 regular sandbags. The flood barrier systems protecting a highway in this photo were set up in just minutes.
Our flood barriers are packaged in 7 systems per pallet. That's 105 linear feet of protection that can be easily stockpiled. All Flood Control Mitigation plans should include an easily stored product like Big Bags USA.
Our heavy-duty bags are made of woven polypropylene
Wooden U-Frame inserts
The "WATER SIDE" is 10 mm thick and extra coated for an impermeable barrier and UV protection
The non "WATER SIDE" is 6 mm thick
Stands open for filling with common machinery
Open top with handles at each corner
Flood Control
Stream Diversion
Cofferdams
Erosion Control (Coastal, Railroads, Soil)
Secondary Containment Barrier for Hazardous Spills
Mudslide Barriers
Flood Barriers
Levee Heightening
Storm Surge Protection
Military Blast Barriers
Our flood barrier easily conforms to railroad tracks, tops of levees, streets, hillsides, sewer drains, and any other uneven topography.
Our 5-connected bulk bag system has a full range of uses:
Flood Control
Flood Barriers
Storm Surge Protection
Stream Diversion
Mudslide Barriers
Military Blast Barrier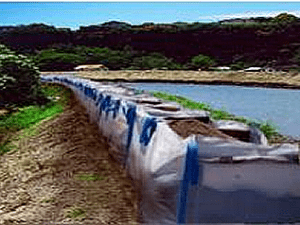 In the image above, you can see our flood barrier systems on a pallet awaiting deployment to protect a factory. Next, the flood barriers are placed in a staging area ready for deployment by an assistant that directs a crane, using our patented spreader bar, to lift the filled flood barriers onto a flatbed. Once loaded onto a flatbed, the 7-10 ton barrier system can be lifted and stacked in a pyramid formation. Pyramid stacking requires an extra row on the bottom for every row you place to achieve vertical height.
One person can easily carry an empty flood barrier system, open and deploy the system, and then manipulate them to form any desired shape, including arcs or right angles to encircle a building.
Big Bags USA barriers are rated for over 2,200 hours of direct sunlight. Our sand-filled demonstration systems displayed outside of the factory remain uncompromised after 10 years of exposure to the elements. Indoor shelf life is rated at over 50 years. Try to find another flood control product that stands the test of time as well as Big Bags USA.
6mm thick polypropylene, made with the highest UV-resistant polymers available to increase longevity in sunlight.
The flexibility of the barrier allows the product to be used on any and all surfaces without the need for trenching or leveling to get a water-tight seal.
200 times faster to deploy than traditional sandbag walls.
Uses 1/2 the amount of sand used in a sandbag wall built to the same height.
Not only is the bag reusable, but the sand can also be kept in the bags and stored in a warehouse for the next use.
Big Bags USA flood control systems can handle the highest demands at a fraction of the costs normally associated with rapidly deployed systems.
Systems can be reused. No need to budget for new systems every year.
Deploys faster than any other barrier on the market.
No costly contracts for clean-up. Simply warehouse the bags, sand included, for the next use.
Field tested and proven to protect against moving logs and ice jams.
Testimonials
We first used the system in August of 2010 and were extremely pleased with the ease of placement and removal. We would recommend the use of Big Bags System to other communities looking for a quick, easy, and efficient system to control flooding.
~ Bart Weller, Director of Public Works.
Clive, IA
The Big Bags are going to be our first and hopefully only line of protection...
~ City of Leavenworth Public Works Director
Micheal McDonald
During the deployment of the Big Bags in some hard to reach areas, we were effectively able to determine the time necessary to deploy and fill each bag.
~ Mike V. Hagen, Alliant Energy
Cedar Rapids, IA